Starring: Tom Hardy, Emily Browning, David Thewlis, Taron Egerton, Christopher Eccleston, Paul Bettany, Colin Morgan.
Director: Brian Helgeland
Tom Hardy stars opposite himself, in his portrayal of 1960's London gangster twins, Ron and Reggie Kray.
Legend is the 'true-crime' (I use that term loosely) portrayal of the Kray Twins, the brother gangsters who come to gain celebrity status in London. Directed by Brian Helgeland (A Knights Tale and writer for L.A Confidential), Legend has its flaws as a gangster bio-pic but is saved by an utterly compelling performance by Hardy.
Hardy plays both Ron and Reggie Kray, twins who could not be more opposite. Reg is calm, calculated and suave, in a charming cockney fashion; whereas Ron is a paranoid schizophrenic, certified insane, openly homosexual and hungry for violence and chaos. The always versatile Hardy is nothing short of brilliant as the Kray twins and his performance serves to elevate the film to the point of being almost guiltily entertaining. Because of this, Legend serves to act as more of a showcase for Hardy than an accurate true-crime depiction.
The film is undoubtedly romanticized and humorised – laden with dark comedy, often stemming from the destructive and often absurd Ron Kray. With the exception of a vivid knife killing, the scenes of violence are both brutal and humorous, making them oddly satisfying in morbid type of way.
Although Hardy undoubtedly carries the film singlehandedly, he is supported by a strong cast, including a flamboyant Taron Egerton (Kingsman) as Ron Kray's toyboy, the always reliable David Thewils (Harry Potter series) as the Krays' business adviser, and Australian actress Emily Browning (Sucker Punch) as the wide-eyed and fragile wife to Reggie Kray. Browning's tiny stature and innocent demeanor is a stark juxtopostion to Hardy's bulking frame and confident assertions. Her charisma with Hardy is evident, however her narration of the plot is often unnecessary and feels disjointed and ultimately confusing as to why it was chosen as a narrative tool.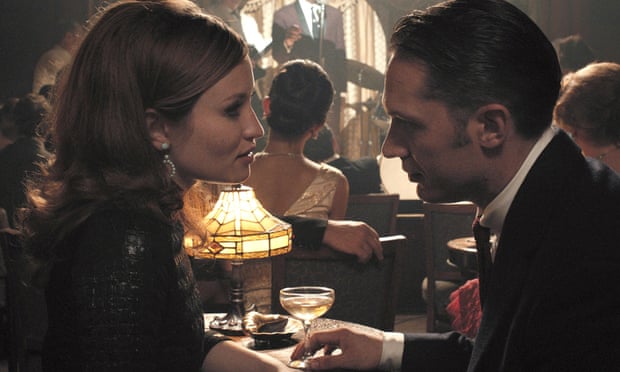 Legend is ripe with ridiculous, over the top scenes, scenarios and dialogue, making the film easy and enjoyable to watch, provided you don't have a weak stomach. The overarching story of the Krays however, is far from compelling and certainly does not justify the extensive running time devoted to telling this tale, particularly the third act which begins to drag.
Legend is no Goodfellas and by no means is it a great bio-pic. It is however an exercise in Hardy's versatility and a wildly good time.
Pick up a copy of Legend here.